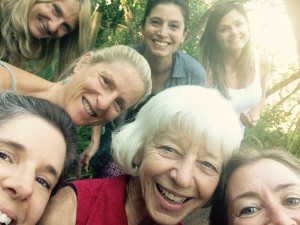 Some of our teachers:
Mudra, Andrea, Brook (top row);
Amy, Zette, Connie, Alli (bottom row).
Individual photos coming soon….
~~~~~~~~~~~~~~~~~~~~~~~~~~~~~~~
We are so fortunate to have such skilled teachers at Body Balance. And the icing is that each of us brings our own style to our classes. Here's a little bit about our primary teachers:
Alli Aruna Spooner E-RYT-500, Director of Body Balance, was an on-and-off practitioner since 1980, always returning when her health became compromised, but is now devoted full time. She is trained in the styles of Hatha Yoga and Akhanda Yoga, as well as Classical Kundalini, Prenatal Yoga and Raj Yoga. She obtained her 200-hour training through the Himalayan Institute of Yoga Science and Philosophy and completed her 500-hour training at the Anand Prakash Ashram in India, founded by Yogrishi Vishvketu and Chetana Panwar. In 2011 Alli was an assistant teacher at the Anand Prakash Ashram in India for the YTT-200 program offered by Yogrishi Vishvketu. Her classes follow the traditional sequence of postures in the Hatha and Akhanda styles, with a focus on breath-work, alignment and safety, and includes a dash of (usually lame) humor and a couple of Oms.
Connie Erickson took her first yoga class in the 1970s. She has studied with over 25 different instructors and attended numerous workshops. Connie has taught a gentle yoga class, which focuses on breath work, in Roseburg since 2000. She is committed to continuing to learn from fellow teachers, students, and her own practice. Come experience the joie de vivre that she folds into her classes and the friendships that evolve!
Amy Salthouse began her yoga journey 17 years ago and for the 6 years prior to joining Body Balance taught Hatha and chair yoga at the YMCA, emphasizing foundational asanas and breathing. She has a Restorative Yoga certificate through Judith Lasater Hanson and continues to be inspired by workshops and fellow teachers. Amy is constantly amazed by the power of yoga and the ability to bring the whole Self back into balance. Her classes are full of loving support and compassion, emphasizing self-care, breath awareness, and cultivating the Highest Self.
Andrea Campos Smith has been teaching yoga in Roseburg for 10 years, informed by 18 years of personal practice.She deeply believes that yoga is adaptable for all bodies and all ages, and loves to help students find THEIR yoga, whether it be in Hatha, Chair, Restorative, Gentle or Flow! After learning how yoga can be a vital component of treatment for veterans (she is the back up instructor for the VA's YogaWarriors program), she pursued further education in trauma-sensitive yoga training, with Alignment Yoga YTT200, and Fireflex Yoga for First Responders. Andrea has a unique combination of styles (scientific/playful/exploring/compassionate/inquiring) which should definitely be experienced firsthand.
Carolyn Sachs-Okonek is originally from Los Angeles and has been immersed in yoga since 1998.  She began teaching in 2001 after her first teacher training at the White Lotus Foundation led by Master Teachers Ganga White and Tracey Rich.  During this period Carolyn not only had the opportunity to practice regularly with Erich Schiffmann, Max Strom, and Saul David Raye, she also received certification for teaching yoga and Thai Yoga massage from those Masters as well.  In addition Carolyn attended many workshops and trainings from numerous Master Yogis.  That list includes: Tias Little, Paul Grilley, Judith Lasater, Dharma Mittra, Patricia Sullivan and many more. During 2001-2010 CAROLYN taught up to 22 classes weekly and hosted retreats for women and couples, numerous yoga 101 workshops and collaborated with other teachers for larger yoga events in the LA area. Carolyn then spent 8 years in Hawaii where she offered community yoga in a small town on the east side of the Big Island. Carolyn offers a detailed asana class for all levels, focusing on breath, alignment and energy.  Her classes are suited for those who wish to learn how to practice safely with strength and grace.  Carolyn's enthusiasm and precise instruction is intended to better the seasoned practitioner and bring the newer student up to a higher understanding of their bodies and the power of energy flow through asana.
Rose Bryant (Bio coming soon)
And thank you to our Karma Yoga teachers who pitch in when they can:
Carmen Seehawer's love of yoga started the day she unrolled her mat out at the local YMCA at age 15. Her dream to become a yoga teacher came to be while visiting Costa Rica. Learning how to balance the breath and link it to the asana (postures) practice was something she felt she could bring back to her hometown (Roseburg) to share. Carmen was certified in 2015 in Raja Hatha/Vinyasa through Jackie Chiodos Transformative Teacher Training Program at Anamaya Health Resort. The net result was achieving a goal to help others find transformation through creative sequencing. As Carmen said, "By instructing my very own Hatha Flow classes, I welcome beginning students as well as experienced students, and bring warm fuzzy flow classes to Body Balance!"
Sam Ellis The practice of mindfulness and awareness has always been part of Sam's life, and the yoga tradition provides a clear and concise format to implement these refined teachings. Alongside his profession as a construction worker, he has a desire to share the experienced benefits of yoga that are physical, mental, emotional, as well as spiritual. He has been blessed to have had incredible teachers in Anusara & Sri Deiva traditions, as well as in vinyasa,  yin, and restorative styles. After completing a RYT200 in Spring of 2013, Sam has been an instructor and mentor in the Transcend yoga training program in Jupiter, Florida, teaching alignment principles, pranayama, meditation, class sequencing and speech etiquette. Once again an Oregon resident, he is teaching locally as well as offering private classes.
Mudra Bergan completed her 200-Hour Yoga Teacher Training Certification in 2012 under Mark Stephens in Eugene Oregon, where (coincidentally) she took her first yoga class in 1994. Mudra continued to attend yoga classes throughout/after college and deepened her practice over the last ten years while living in Port Townsend, Washington. She fulfilled a longtime dream to become a yoga instructor recently when she returned to Oregon to be closer to family and friends. Mudra's training is in Hatha yoga with a focus on sustainability in practice through alignment, proper sequencing, and acknowledgment of students' individual abilities and conditions. She has also received yoga training designed to benefit veterans and currently teaches "Warrior Yoga" classes at the V.A. Her intention is to offer transformational yoga asanas and pranayama that will help bring stability and ease to the lives of others.