Yoga classes for all levels offered in historic downtown Roseburg, Oregon,
by experienced and caring instructors since 2006! Special offer for new students: $7 for first visit OR $25 for two weeks of unlimited yoga. Great deal!

Memorial Day Monday we will be offering the 9am and noon classes but not the 5:30pm class. Hope that you can make one of them!

Join us Sunday 6-7 pm for meditation, chanting, sharing. Come for part or all. Donations are welcome but not required.
Saturday morning class will maintain the 10am start time (by popular demand). It will be suspended July/Aug since we have free yoga in the park then.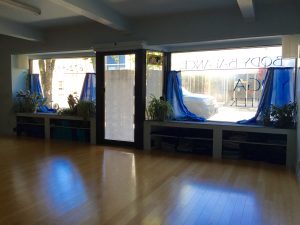 • Visit us on Facebook and like us to get updates.
• New Students: First visit $7
or

 $25 for 2-weeks unlimited

Below: Free Yoga in the Park begins June 29 and will be offered for 9 Saturdays.

Namaste