Yoga classes for all levels offered in historic downtown Roseburg, Oregon,
by experienced and caring instructors since 2006!
Yoga for a Healthy Back Workshop, Series I; April 4 to May 9 at 9:00 am.

Andrea Campos Smith is offering this 6-week exploration/workshop once again. She will guide you in the practice of asanas (poses) to strengthen abdominal muscles and stretch tight hamstrings and hip flexors. She will also show you how to release muscle tension that may contribute to or lead to back pain. And lastly, you will learn to gently explore posture and movement habits that affect the function of your spine. The cost is $65 for the 6-week workshop. Contact Andrea directly for information and enrollment (541.580.8328).
Lunchtime class: HIIT/Yoga; Wednesdays, 12:05 – 12:50.

It's finally here!!! Andrea is also leading this 45-minute lunchtime class for the working yogis! In 45 minutes you will practice High Intensity but low impact Interval Training  (HIIT) with proven metabolic ROI and still have time for the stretch and relaxation of yoga that you know you need! This class is included in any package that you purchase or is available on a drop in basis. Andrea leaves the door unlocked in case you need an extra 5 minutes to get out of work AND she sets out mats/props so you can roll in and slide out!
Essential Yoga Program Workshop; Take yoga to the next level with Terrie King introducing you to essential oils and (new!) Sam Ellis providing yoga asanas. Plan to experience the next session on Saturday, April 14th, 1–3pm.

Terrie has been offering these beneficial workshops on the 2nd Saturday of each month from 1-3pm. The concept is to combine yoga & essential oils for a complete practice. Each workshop has a different focus. The selection of oils and the order in which they are used is designed to move stagnant energy, detoxify the body, calm the mind, relax the body, and restore equilibrium. Terrie is a certified and experienced yoga instructor as well as a doTERRA essential oils representative. The cost is $20 prepay or $25 day of. All levels are welcome. Register at terrielking@gmail.com or 541.496.0376.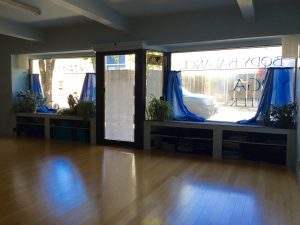 • New Students: First visit $7
or

2-weeks unlimited for $25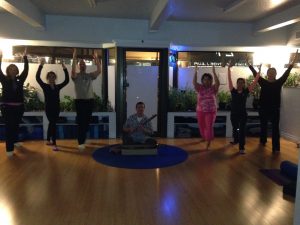 Above photo: After Monday evening yoga and meditation with live music courtesy of Larry.
Below photo: Our 5th summer of "Free Yoga in the Park" was another great success.
Thank you Velorie Ligon and Roseburg Parks & Recreation for the space.

Namaste