Yoga classes for all levels offered in historic downtown Roseburg, Oregon,
by experienced and caring instructors since 2006!
Yoga for a Healthy Back Workshop, Series I; Wednesdays, 9 – 10:15 am, Feb 14th – Mar 21. Fee of $65.

Andrea Campos Smith is offering this 6-week exploration/workshop. She will guide you in the practice of asanas (poses) to strengthen abdominal muscles and stretch tight hamstrings and hip flexors. She will also show you how to release muscle tension that may contribute to or lead to back pain. And lastly, you will learn to gently explore posture and movement habits that affect the function of your spine.
Lunchtime class: HIIT/Yoga begins Wednesday, Feb 14th, 12:05 – 12:50.
It's finally here!!! Andrea is also leading this 45-minute lunchtime class for the working yogis! In 45 minutes you will practice High Intensity but low impact Interval Training  (HIIT) with proven metabolic ROI and still have time for the stretch and relaxation of yoga that you know you need! This class is included in any package that you purchase or is available on a drop in basis. Please email me if you interested for if this class doesn't get the attendance then Andrea will not be offering it in the future. We've had requests, so it's time to "walk the walk!"
Essential Yoga Program Workshop; Take yoga to the next level with Terrie King.
Terrie will be offering another workshop this upcoming Saturday (Feb. 10 from 1-3pm) to combine yoga & essential oils for a complete practice in creating an open heart. This February's workshop focus is "Connection; cultivate an open heart!" By adding essential oils to our yoga practice, we accelerate and enhance our ability to overcome the mind through the body. Terrie is a certified and experienced yoga instructor as well as a doTERRA essential oils representative. The cost is $20 prepay or $25 day of. This workshop is appropriate for all levels. Register at terrielking@gmail.com or 541.496.0376. You can also drop off a check (made out to Terrie King) at the studio. (Drop it through the mail slot if no one is present.)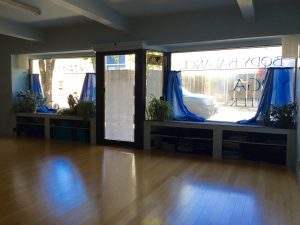 • New Students: First visit $7
or

2-weeks unlimited for $25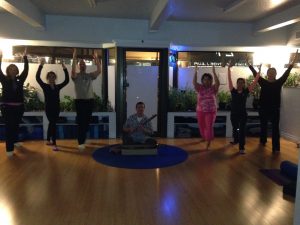 Above photo: After Monday evening yoga and meditation with live music courtesy of Larry.
Below photo: Our 5th summer of "Free Yoga in the Park" was another great success.
Thank you Velorie Ligon and Roseburg Parks & Recreation for the space.

Namaste