Yoga Classes in Downtown Roseburg, Oregon
on Jackson Street near Oak Street
(Entrance is inside the Umpqua Hotel Mall)
Free guided meditation on Monday nights (7-7:30pm).
~~~
Holiday closures include the following:
December 22 – January 3

Following a Monday night yoga class and guided meditation with live music.

 Meran is offering Svaroopa Yoga!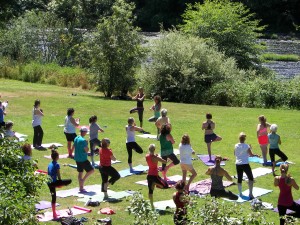 FREE Yoga in the Park was a great success this summer!
Thank you to all that participated and to Roseburg Parks & Recreation Department for the free space.
Namaste