Yoga classes for all levels offered in historic downtown Roseburg, Oregon,
by experienced and caring instructors since 2006!
We will not offer the evening class on Memorial Day Monday but the 9am gentle and the noon all-levels classes will still be offered.
The Community Classes are on hiatus. Sam will return in September.
Lunchtime class: HIIT/Yoga; Wednesdays, 12:05 – 12:50.

It's finally here!!! Andrea is also leading this 45-minute lunchtime class for the working yogis! In 45 minutes you will practice High Intensity but low impact Interval Training  (HIIT) with proven metabolic ROI and still have time for the stretch and relaxation of yoga that you know you need! This class is included in any package that you purchase or is available on a drop in basis. Andrea leaves the door unlocked in case you need an extra 5 minutes to get out of work AND she sets out mats/props so you can roll in and slide out!
Another "Yoga for a Healthy Back" Workshop Series: 5/30-6/20 at 9am. $45.

Andrea Campos Smith is offering another exploration/workshop. She will guide you in the practice of asanas (poses) to strengthen abdominal muscles and stretch tight hamstrings and hip flexors. She will also show you how to release muscle tension that may contribute to or lead to back pain. And lastly, you will learn to gently explore posture and movement habits that affect the function of your spine. Contact Andrea at abcsyoga@outlook.com or 541.580.8328.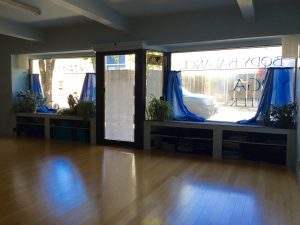 • New Students: First visit $7
or

2-weeks unlimited for $25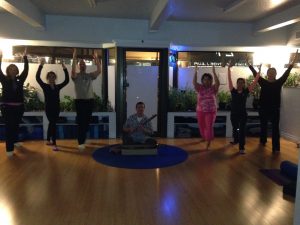 Above photo: After Monday evening yoga and meditation with live music courtesy of Larry.
Below photo: Our 5th summer of "Free Yoga in the Park" was another great success. We're doing it again this year but with Summer leading this offering.
Thank you Velorie Ligon and Roseburg Parks & Recreation for the space.

Namaste