Yoga classes for all levels offered in historic downtown Roseburg, Oregon,
by experienced and caring instructors since 2006!
1/13 WORKSHOP: Essential Yoga Program Workshop; Take yoga to the next level with Terrie King. She will be offering a workshop on this upcoming Saturday (Jan. 13 from 1-3pm) to combine yoga & essential oils for a complete practice in how to embrace life.  By adding essential oils to our yoga practice, it accelerates and enhances our ability to overcome the mind through the body. This January Workshop Focus is "VISION: Is Your Yoga Practice Aligned with Your Goals?" The essential oils and blends used in the workshop were chosen to FOCUS our perceptions and vision for the New Year. The oils create aromatic and therapeutic support on a physical and emotional level. By incorporating the oils into our practice, we use this opportunity to go within and ask ourselves, "Is our yoga practice aligned with our life path?" Find out how to open the breath, the body, and the mind and get even more clear on the next steps for our practice this year. We hope to host this workshop monthly (2nd Saturday). Terrie is a certified and experienced yoga instructor as well as a doTERRA essential oils representative. The cost is $20 prepay or $25 day of. This workshop is appropriate for all levels. Register at terrielking@gmail.com or 541.496.0376. You can also drop off a check (made out to Terrie King) at the studio. (Drop it through the mail slot if no one is present.)
Same schedule but new prices.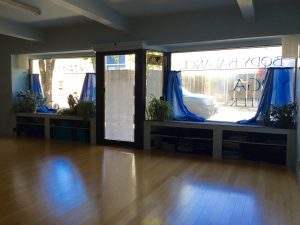 • New Students: First visit $7
or

2-weeks unlimited for $25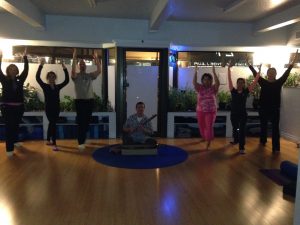 Above photo: After Monday evening yoga and meditation with live music courtesy of Larry.
Below photo: Our 5th summer of "Free Yoga in the Park" was another great success.
Thank you Velorie Ligon and Roseburg Parks & Recreation for the space.

Namaste