Yoga classes for all levels offered in historic downtown Roseburg, Oregon,
by experienced and caring instructors since 2006! The space is beautiful and peaceful.

Our schedule has changed for July and August to accommodate all of our busy schedules in this season. We plan to return to our 7-day-a-week offering in September. The only closures we currently have planned are for the evening class on Labor Day (8/3), Thanksgiving Thursday through Sunday, and the last 2 weeks of the year. In case you're interested, the first photo on our home page is a view from the studio between classes looking out onto Jackson Street.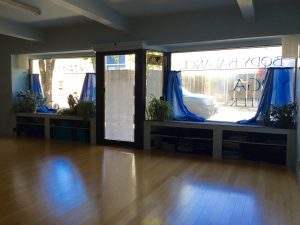 • New Students: First visit $7
or

2-weeks unlimited for $25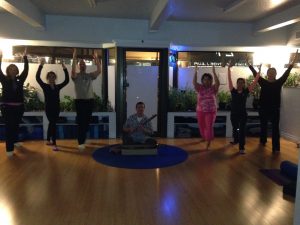 Above photo: After Monday evening yoga and meditation with live music courtesy of Larry. Below photo: Our 5th summer of "Free Yoga in the Park" was another great success. We're doing it again this year (2018) with Summer Fry spearheading this offering.
Thank you Velorie Ligon and Roseburg Parks & Recreation for the space.

Namaste